You know how sometimes you are watching a TV show and someone knocks on the door of the house they grew up in? Well, now you can do it too! But without the embarrassment of crying in front of strangers as you describe your childhood memories.
Just for fun, I looked up my childhood home. Sure enough it had gone up for sale several times since the invention of the internet and I could view the pool where I learned to do a backflip (same diving board, check it out!), my bedroom, complete with built-in desk and mirrored closet and the spot in the living room where I was forced to practice piano.. I kind of miss playing the piano.
Built in 1958, a really cool mid century modern home, with floor to ceiling windows in every room. Definitely not aprreciated in my youth.

We had our dining room table in the same place. Beautiful slate floors but they were cold and that's saying something considering this is Southern California. Behind the table is a closet where my mom kept stacks of trashy romance novels. She's pretty much the influence for my love of reading. Sorry to out you on the romance novels, mom!
My room .. I had purple walls and a canopy bed (sort of embarrassed about that part).
The yard did not look like this at ALL. My mother was an avid collector of farm animals. Imagine this but with more weeds, rabbits, chickens, goats, and geese.
I blame this pool for the sun spots on my face. No trees, no shade, no cabanas, what were my parents thinking?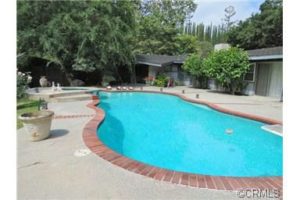 Thanks for taking a walk down memory lane with me. Look up your old house, and if you want to share the experience, contact us, we love guest blog posts!