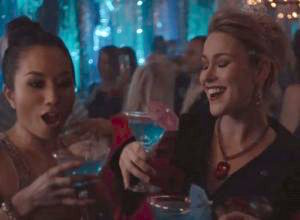 sfGirl.com is featured on episode #3 on National Geographic's mini-series, Valley of the Boom. The talented Hilary Jardine plays me! (BTW, can I just say the lighting is terrible on all of the IRL guests, I'm sure we all look better in person, lol) Be sure to follow The Real sfGirl on Instagram @therealsfgirl and Twitter @sfgirlofficial 
Here's a clip from Valley of the Boom, where they really capture my inner brat, lol.
The series premiered globally on National Geographic in 171 countries and 45 languages on January 13th, 2019. Watch for sfGirl.com story in episodes 3 and 6.
Please let me indulge in a little shameless self-promotion here! Following are some stories that have been written about Valley of the Boom and also reference sfGirl.com and yours truly, over the last few weeks!
The Mercury News – Valley of the Boom: TV series recalls '90s tech craziness – January 10th, 2019
"I love that Patty became part of our story," Carnahan said. "She was kind of the Holly Golightly of her time."   – Valley of the Boom director Matthew Carnahan
Emmys.com – The Other Side of the Boom – November 26th, 2018
They also look at Patty Beron, who created Sfgirl.com, the Gawker of its time, while working as a web developer at Sun Microsystems. She's portrayed by Zoo's Hilary Jardine.
Denofgeek.com – Valley of the Boom Preview: A Rule-Breaking, Unconventional Hybrid Series – January 12, 2019
"She [Patty Beron] was the pioneer of social marketing, social media. She really, really was out in front of it." – Valley of the Boom director Matthew Carnahan
Hollywood Reporter – Valley of the Boom: TV Review – January 11th, 2019
sfGirl.com being a blog before there was a blog, in a side-story that accurately depicts what it was like in San Francisco at a time when you could go from startup party to startup party, lavishly eating and drinking and dancing at a company that no longer exists (and you probably couldn't explain what it did even when it did exist).
Adweek – National Geographic Dares to Think Outside the (Yellow) Box With Valley of the Boom – January 7, 2019
Carnahan, working with production house STXtv, spent months identifying the right brands to focus on for Valley's three main interlocking stories, sprinkling in others like Ferrari (for its massive sales rush in the Bay Area) and SFgirl.com, a must-read insider blog that outlasted some of the corporations it followed and hosted "pink slip parties" during the bust.