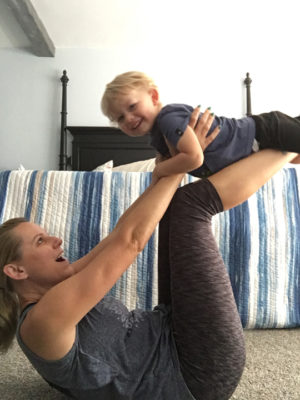 Blog post by Candy Keane
Candy is a guest blogger on sfGirl and is the owner of the very popular blog GeekMamas.com!
A funny thing happens after a couple glasses of wine. While I normally try to maintain a "can-do attitude," my can-do becomes multiplied into "I'm an expert" proportions. Combine that with checking e-mail or cruising Facebook and it sometimes results in things I may question the next day.
Like the time I got myself a promotions job that included driving a cargo van. I didn't even know what exactly a cargo van was, but I figured it's a vehicle, I can drive it. In case you haven't tried to drive one, cargo vans are quite large and have no back windows so you need to use the mirrors a lot and they are hard as hell to drive through the crazy streets of downtown San Francisco, which is where I lived at the time. And then there was the time I was like, "sure, I speak Spanish," and found myself working for Bacardi in Cancun for two months. Luckily, it was spring break and I think everyone was too drunk to notice my limited vocabulary.
My latest wine enhanced sentiment is that my kid and I are yoga buddies. I saw a post from a yoga clothing website about collaborating with bloggers and I immediately was like, oh we are so perfect for this! I must have blocked out the last time my son went to yoga on the beach with me and pretty much just covered me in the sand the whole time.
In my mind, I'm picturing him in adorable yoga outfits, doing a sun salutation alongside me while someone snaps amazing pics for my Instagram.
But here's the real truth:
Me: You want to do yoga with mommy?
K: Yogurt?
Me: No, YOGA. (does some demonstration) Stretching!
K: Yogurt? Yogurt!
Me: Yooooooooooooga (again with demo)
K: Yogurt! Yogurt! Yogurt!
Me: *sigh* (spends next 20 minutes feeding him yogurt)
So we are still working on this yoga thing. And I'm sure I'll continue to blow my abilities out of proportion now and then. I will say that I did learn to drive that van pretty well and my Spanish can get me by in a pinch, so sometimes it is good to put yourself out on a limb. But I'll have to hold off on baby yoga clothes until my baby agrees to participate for more than 10 seconds. Until then, I'll just stick to my wine and questionable decisions.
Candy Keane Bio
Candy Keane is a costumer, maker of geeky things, Army wife and mom to one energetic toddler named Keelan. She chronicles her first-time mom adventures on her blog GeekMamas.com. She holds a journalism degree from the University of Florida, where she met her husband Sean. Candy is internationally known for her cosplay and costume design, and more locally known for the Three Muses costume boutique she owned for many years before closing to concentrate on her personal projects and enjoy every moment of raising her son.